Medical IDs for Heart Disease
Why are medical IDs important for those living with Heart Disease?
A medical ID is recommended for those with heart disease such as coronary heart disease, arrhythmia, congenital heart disease, and myocardial infraction. According to the CDC, heart disease remains the leading cause of death in the United States. The latest statistics show that about 48% of adults in the US have some type of heart or blood vessel disease.
Complications of heart disease include heart failure, heart attack, sudden cardiac arrest, and stroke. In an emergent situation, signs of heart disease are not readily visible to first responders. By wearing an engraved medical ID alert, a health condition is easily identifiable.
A study shows that 14% of people who have a heart attack will die from it.
Every year, approximately 805,000 people in the United States have a heart attack – which is about one heart attack every forty seconds.
What are the most common types of Heart Disease?
There are a variety of heart diseases that affect different parts of the heart. With that, they also come with their own unique set of symptoms. In an emergency where every second counts, a wearable medical ID can help identify the specific type of heart disease that a person has. This could ultimately improve the outcome for the wearer.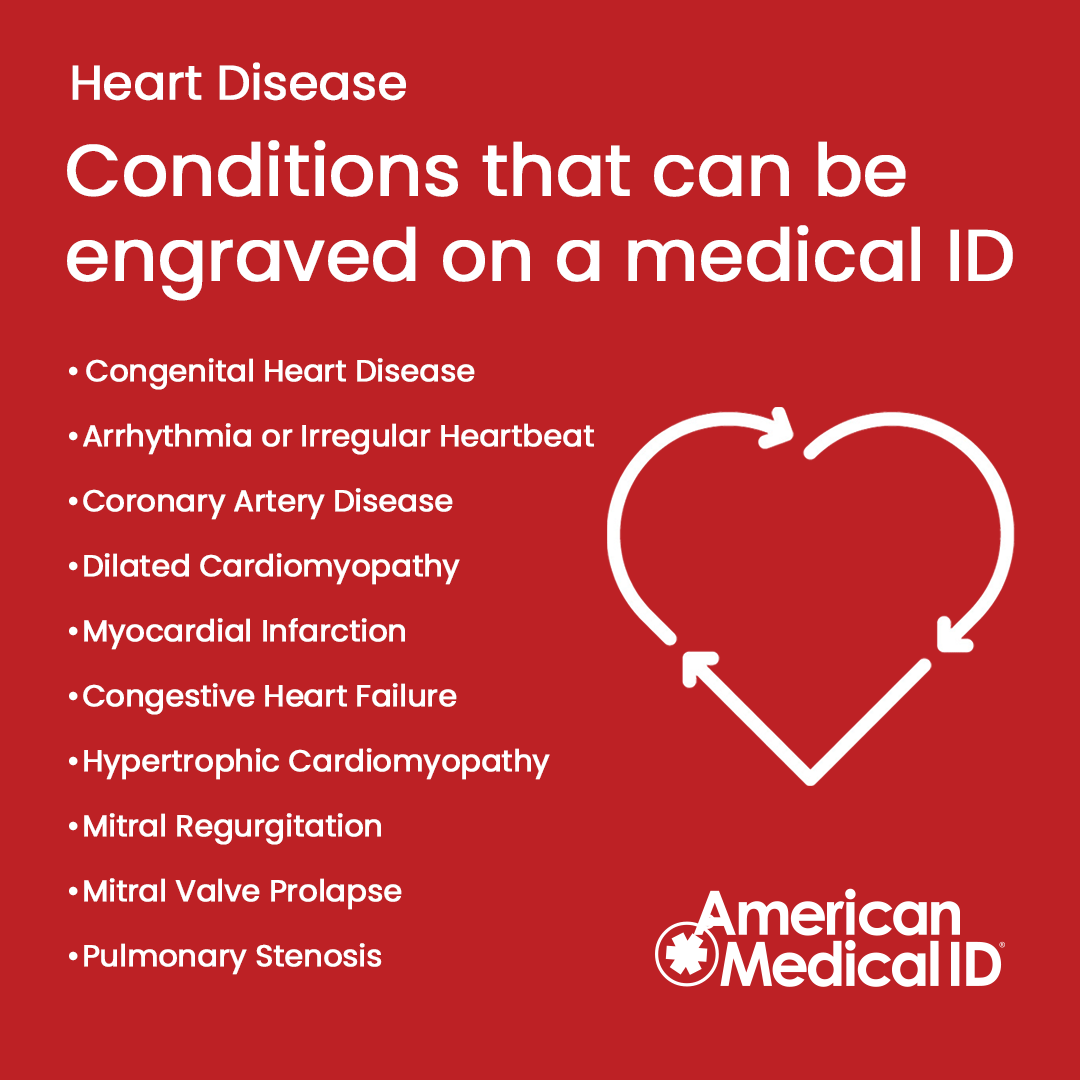 Who is at risk of Heart Disease?
An estimate of 47% or about half of all Americans have at least one of the three key factors for heart disease. These factors include high blood pressure, high cholesterol, and smoking. Other heart disease risk factors are:
Diabetes

Obesity

Physical inactivity

Family history of heart disease

Unhealthy diet

Stress

An autoimmune condition




Increased age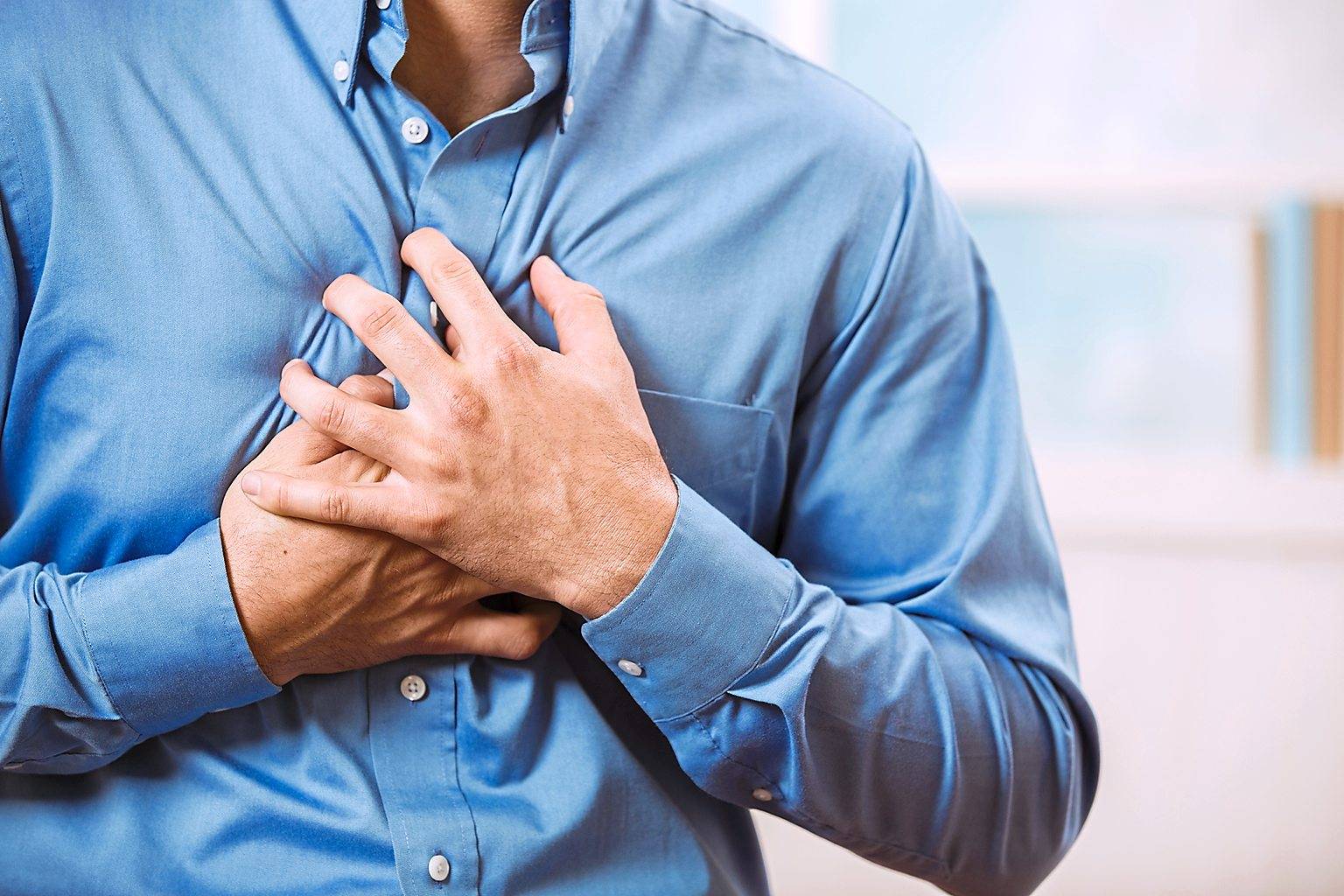 While not all risk factors can be prevented, it is possible to try and improve some of these factors to reduce your risk.
Medical IDs and Heart Disease in Emergencies
Heart disease is an invisible medical condition, making it difficult for first responders to recognize in an emergency. Medical IDs can alert others that heart disease or the risk of a heart attack is present.

"A medical ID bracelet or necklace brings great peace of mind to patients who have experienced a traumatic, unexpected health crisis like Spontaneous Coronary Artery Dissection (SCAD). The ID "tells your story" in times that you can't, and is something emergency personnel are trained to look for when evaluating patients." – SCAD Alliance
A heart attack is a life-threatening emergency that requires quick action. Immediate diagnosis and treatment reduces potential damage to the heart and could save lives.
What should be engraved on a Medical ID for someone with Heart Disease?
A medical ID for heart disease can alert medical professionals of the type of heart disease you have. The ID will also relay important details unique to your condition and heart health. Not all heart diseases are the same. Some patients have an implanted medical device and take different medications to manage their health condition. A custom-engraved bracelet or necklace is recommended to reflect a patient's most updated and precise medical information.


"Medical personnel should know about your pacemaker before ordering diagnostics involving an MRI, which is among the devices that may interfere with your pacemaker. Consider an ID bracelet or necklace for added security and convenience." - American Heart Association
Here are some of the most important items to put on a heart disease medical ID:


Name
Heart Disease – you can include the type of heart disease that you have and other medical conditions such as high blood pressure or diabetes.
Additional medical information – include information if you have implants or cardiovascular device such as a stent, sternal wire sutures, artificial valve, pacemaker, and ICD.
Heart disease medications – examples are blood thinners or anticoagulants that can interact with other drugs or could cause excessive bleeding.
Emergency Contact
For tips on engraving and more, please read our guide to choosing a medical ID.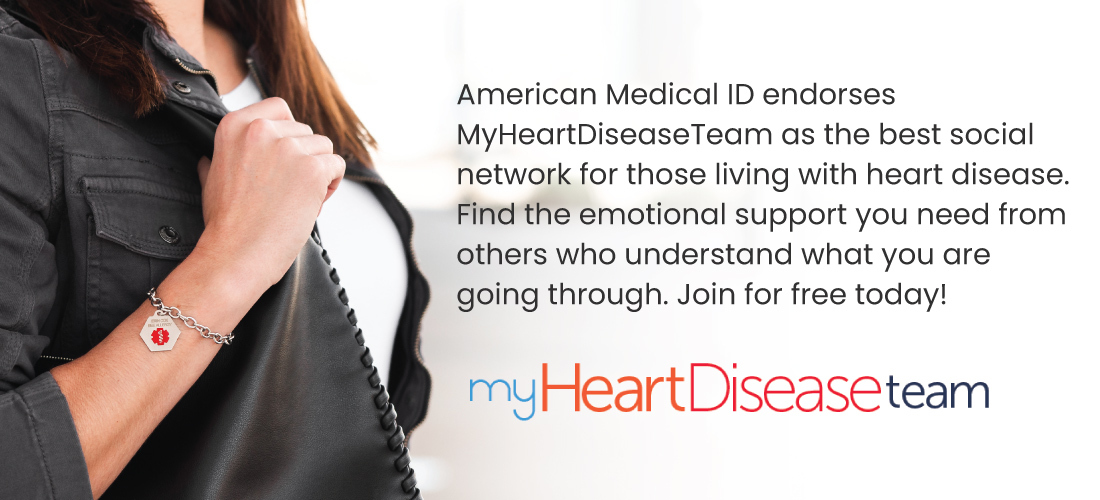 Tips for purchasing a Medical ID Bracelet or Medical ID Necklace for Heart Disease
Since you'll be wearing your medical ID every day, consider the following factors before deciding which medical ID bracelet or necklace is for you.
Bracelet vs. Necklace: the most common choice for a medical ID is a bracelet. Both options will protect you in an emergency, so select what is your preferred medical jewelry type to match your lifestyle.

Select the metal type and style you want for your medical ID. We offer many styles in stainless steel, sterling silver, titanium, gold-filled, and 14 Kt gold, so you can select the best option for you.

Consider adding MyIHR (My Interactive Health Record) to your medical ID. MyIHR is an online health record you control with your latest health information, such as conditions, medications, emergency contacts, and much more. Supplement your custom-engraved medical ID with a complete MyIHR profile to include all the important details about your health for a first responder in an emergency or when you need to reference your information for a doctor's appointment.
For even more information, you can download our Medical ID Guide.
---