Tips for Engraving a Medical ID Bracelet or Necklace
Engraving Tips: What to Put on a Medical ID Bracelet or Necklace
Medical alert jewelry is most effective when it reflects accurate, comprehensive, and easy-to-read medical information that belongs to its wearer. Deciding on what information to engrave can be confusing if you have more than one medical condition, allergy, or medication. Medical ID tags come in different shapes and sizes and can hold different amounts of engraving. Some medical IDs can be engraved on the front and back while others can only be engraved on one side.

When choosing medical alert jewelry, it is important to consider how much engraving can fit on the ID tag or pendant. Information on how many lines and characters a particular ID can accommodate are always found on each product page of American Medical ID. We encourage you to enter, test, and preview your desired custom engraving before proceeding to check out. American Medical ID offers unlimited engraving as can fit on a medical ID at a standard rate of $9.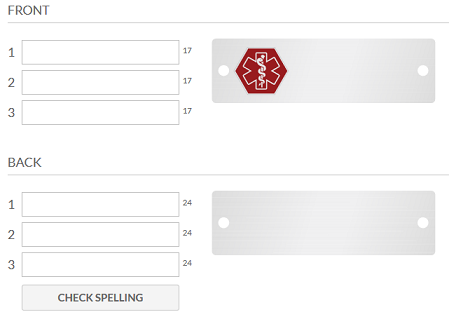 ---
What type of medical information should be included on a medical ID?
Emergency responders are trained to look for a medical ID because it can help them deliver the immediate and effective treatment that you might need. If you become unconscious and unable to speak, a personalized medical ID bracelet or a personalized medical ID necklace can speak for you through its engraving. 95% of emergency responders check for medical identification around the wrist or the neck. Because of this, it is important for your medical ID engraving to be clearly understood by emergency personnel and to have the pertinent information that responders expect.
As the leading manufacturer of medical alert jewelry for over 24 years, we recommend including the following information on your medical ID:
Your Name
Including your name on your ID gives emergency responders a quick way to identify and address you as they begin treatment. Caregivers should also consider adding their name to the ID of the person they care for.
If space is limited, you can opt to engrave your first name only. Full names are ideal, as it allows for quicker identification and access to medical records, if needed. Some people like to engrave their first name at the front of their medical ID to flaunt their custom engraved jewelry. Others are concerned about privacy and choose to engrave their name on the back of the ID.
Your Medical Conditions
Be sure to include any medical conditions that may affect the type of treatment you need in an emergency. Examples include diabetes, epilepsy, Alzheimer's or dementia, heart conditions, and bleeding disorders. If you must abbreviate your medical condition, it is important to to use abbreviations that are recognized by emergency medical personnel. Here is a list of common medical conditions that require a medical ID:
Allergy – ALGY
Congestive Heart Failure - CHF
Congestive Heart Disease - CHD
Chronic Obstructive Pulmonary Disease – COPD
Ehlers–Danlos syndrome - EDS
Fibromyalgia syndrome - FMS
Generalized anxiety disorder - GAD
Insulin Dependent Diabetes Mellitus – IDDM
Hearing impaired - HI
High Blood Pressure - HBP
Hypertension - HTN
Inflammatory bowel disease - IBD
Irritable bowel syndrome - IBS
Kawasaki syndrome - KS

Klippel–Trenaunay syndrome - KTS
Klippel–Trenaunay–Weber syndrome - KTW Syndrome
Multiple chemical sensitivities - MCS
Muscular dystrophy - MD
Multiple sclerosis – MS
No Known Allergies - NKA
Post-Traumatic Stress Disorder - PTSD
Parkinson's disease – PD
Pulmonary embolism - PE
Rheumatoid arthritis - RA
Spina bifida - SB
Traumatic brain injury - TBI
Tourette syndrome - TS
Type 1 or Type 2 Diabetes - T1D/T2D
You should also list restrictions on medical tests, diagnostic tools or procedures like MRI, or the use of contrast dyes. If you are not sure what to include, consult your doctor or a healthcare professional.
Your Allergies to Food, Insect, Metals, Medication, Etc.
It's important to include any allergies that you may have. Examples include food, insect and medication allergies such as an allergy to penicillin. This information provides additional insight for first responders to administer proper care.
Erythromycin Allergy – ALGY: ERY
If you have severe allergies and carry an epinephrine autoinjector, consider engraving this on your medical ID. Here are some abbreviations and recommended engraving to alert responders of life-saving epinephrine (adrenaline) autoinjectors:
EPI
EPIPEN
CARRIES EPIPEN

EPIPEN IN BAG
GIVE EPIPEN
USE EPIPEN




EPIPEN IN POCKET
I CARRY AN EPIPEN
NEEDS EPIPEN
Engrave Your Medications:
Any prescribed medications taken on a regular basis should be engraved on your ID. This could prevent drug interaction that increases with the use of multiple medications. Drug-on-drug interactions occur when two or more drugs (prescription and/or OTC) react with each other. It is common to engrave prescription medicine that is taken on a long-term daily basis.
Examples of these are blood thinners, corticosteroids, and immunosuppressants.


Blood Thinners/ Anticoagulants




Immune System Suppressors Immunosuppressants


Corticosteroids



Warfarin
Apixaban (Eliquis)
Dabigatran (Pradaxa)
Edoxaban (Savaysa)
Rivaroxaban (Xarelto)

Calcineurin Inhibitors: Tacrolimus and Cyclosporine
Antiproliferative agents: Mycophenolate Mofetil, Mycophenolate Sodium and Azathioprine
mTOR inhibitor: Sirolimus
Steroids: Prednisone




Bethamethasone (Celestone)
Prednisone (Prednisone Intensol)
Prednisolone (Orapred, Prelone)
Triamcinolone (Aristospan Intra-Articular, Aristospan Intralesional, Kenalog)
Methylprednisolone((Medrol, Depo-Medrol, Solu-Medrol)
Dexamethasone


Your Emergency Contact Information
We strongly recommend adding an ICE (In Case of Emergency) phone number to IDs for children, people with autism or dementia, or a caregiver's contact information. An emergency contact must be someone that responders can call to obtain important medical or support information. It is recommended to choose someone who is likely to be available, reachable, and preferably lives nearby.
Common emergency contacts are parents, relatives, doctors, friends, or neighbors.
We highly recommend that you check and confirm that your ICE contact's phone number is up to date and that the person you choose to be your emergency contact does not have a plan to change their phone number or relocate anytime soon.
Resources:
https://en.wikipedia.org/wiki/List_of_abbreviations_for_diseases_and_disorders
https://en.wikipedia.org/wiki/Epinephrine_autoinjector
https://www.healthline.com/health/immunosuppressant-drugs#drug-list
https://www.medicinenet.com/corticosteroids-oral/article.htm#what_are_some_examples_of_systemic_(oral_and_injectable)_corticosteroids
https://www.webmd.com/heart-disease/atrial-fibrillation/features/warfarin-new-blood-thinners#1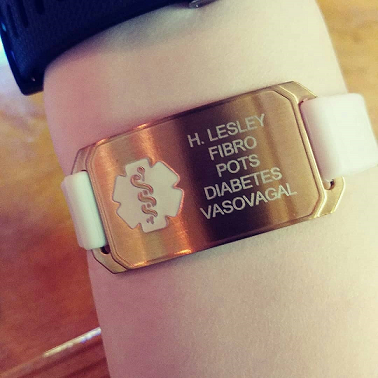 More Tips on Engraving Your Medical ID
By carefully considering what to engrave on your ID, your personalized medical ID can convey critical information to those around you. You help empower first responders such as paramedics and other medical professionals to provide you with the best and most timely medical care in case of an emergency.
Get Your Doctor's Help and Feedback
If you are uncertain about what you have chosen to engrave on your medical ID or feel the information is too long, ask your doctor what is most medically important to include. Your doctor will be able to provide insight and confirm medically acceptable/well-known abbreviations for your conditions and medications. This will allow you to fit additional information on your ID.
Spell Check
Be sure conditions, medications and allergies are spelled correctly before you purchase your ID. It is a good idea to enlist the help of another person to look at your information - a set of fresh eyes can often spot spelling mistakes that you might have missed.
Common special characters that can be used and engraved on a medical ID are colons (:) and hyphens (-).
Consider an Expandable Wallet Card
An expandable medical ID card is a perfect companion for a medical alert bracelet or necklace. It can hold additional or secondary information about your medical condition, allergies, medications, alternate emergency contacts, and more.
A wallet card is an ideal place to keep important information that does not fit on your medical ID or is subject to change. If you have a wallet card, you can alert emergency responders to it by engraving "SEE WALLET CARD" on your medical ID.
Need more help? Don't hesitate to get in touch with us via our Contact Us page and we will help you with engraving your own American Medical ID!