How to Use HSA For Medical IDs, Alert Bracelets in 2021

What is a Health Savings Account?
A health savings account also known as HSA for short is a tax-advantaged medical savings account. This means that funds contributed to an HSA account are not subjected to federal tax. The funds you deposit are actually pretax income which means tax savings for persons using an HSA. The maximum annual HSA contribution limit for 2021 is $3,600 for individuals and $7,200 for individuals with family coverage.
HSA is available to taxpayers in the United States who are enrolled in a High-Deductible Health Plan or HDHP.
HSA is a great tool to encourage people to save for future health care expenses. In times of illness, this will allow the patient to receive the proper care he or she needs. Remember, you need to enroll in a High-Deductible Health Plan before you are eligible for an HSA.
---
Advantages of Having HSA
Allows you to save your pretax income for your out of pocket medical expenses
Unlike flexible spending accounts (FSAs), all remaining HSA funds roll over each year
Your savings earn interest year over year usually and these funds can be invested
You may use your HSA to pay for the qualified medical expenses of any of your dependents so long as their expense is not otherwise reimbursed
Once you reach retirement age, you can use your HSA for anything – even if it's not healthcare related
---
What are Qualified HSA Expenses?
You can use your HSA funds to pay for eligible or qualified medical expenses at any time without federal tax liability or penalty. HSA funds can be withdrawn in many ways, this includes debit card, checks, and/or reimbursement that is similar to medical insurance.
Qualified medical expenses are identified by the IRS. They include medical, dental, vision and prescription expenses. You can view the latest list of qualified medical expenses here which includes medical alert bracelets and medical alert necklaces that are found on American Medical ID's website.
---
How to Buy a Medical Alert Bracelet with Your HSA
Since medical IDs are a qualified HSA medical expense, you can easily use your debit card at point-of-sale. If shopping online, you can use your debit card like any ordinary debit or credit cards to pay for your medical alert id.
When you shop here at American Medical ID, you have the option to pay online or by mailing your check or money order. You may contact us for friendly assistance in using your HSA to buy your medical id.
Tip: When you choose to buy a medical alert bracelet from American Medical ID, all you need is your HSA bank debit card or check. Prescription from your physician is not required.
---
Customer Experience on Using HSA for Medical ID Expense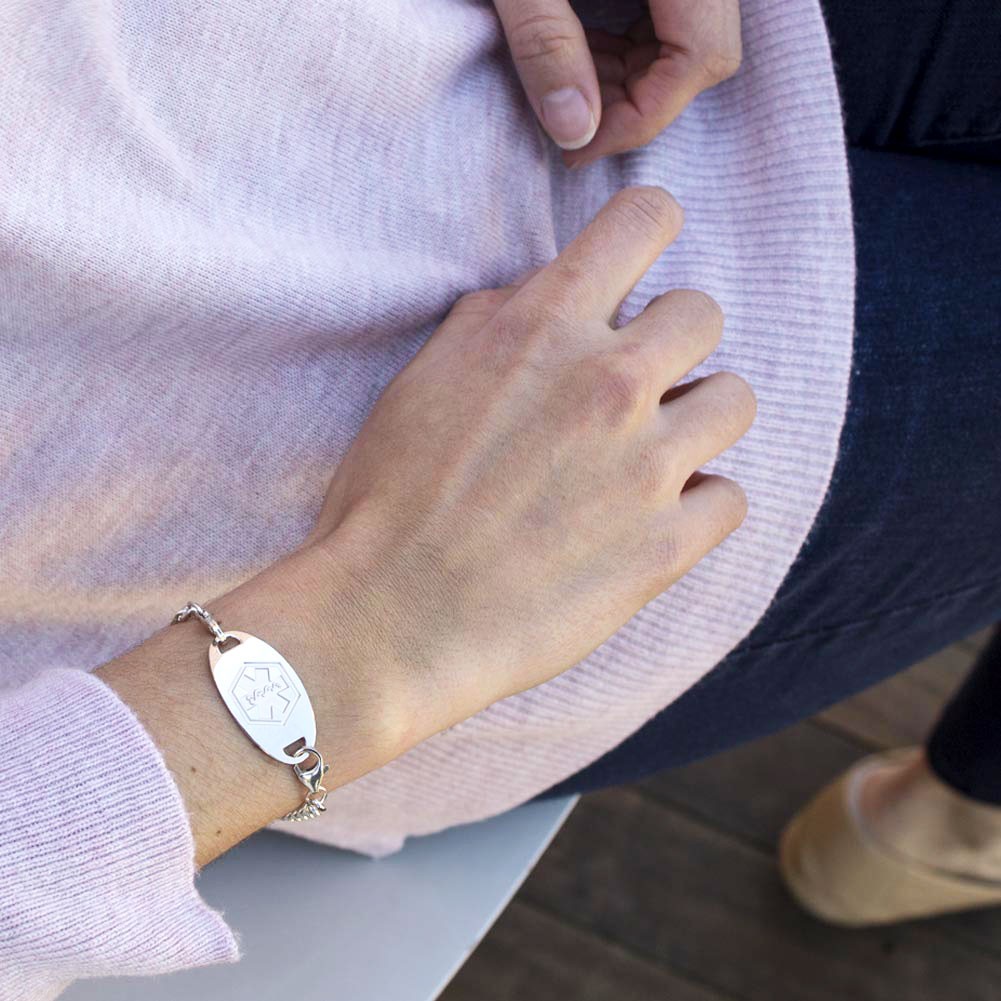 "I am a person living with allergies and a medical ID is essential in case of severe allergic reactions. With a medical alert bracelet, emergency medics will know the cause of my symptoms. Anyway, I came across American Medical ID and purchased a more stylish medical ID band online. I used my HSA card and order went through without any problems. In just a few days, my medical id arrived. Very happy with my purchase, so thank you American Medical ID!"