Medical IDs for Kids
---
To a parent, nothing is more precious than your child. You want to make sure your child is safe at all times, especially when you're not nearby. For children with chronic conditions like allergies, diabetes, epilepsy, autism and others, a medical ID provides the peace of mind of knowing your child will receive the help he or she needs in an emergency.
---
Choosing a Medical ID Style for Your Child
It can be hard enough to agree with your child on clothing, let alone a medical ID that is worn every day. With our selection of stylish IDs that can be custom-built, finding an ID that you and your child will both like is easy!
Selection
Our Bead Bracelets are darling enough to make any girl smile, and no boy is too cool for the Epic and Urban styles. With our silicone Sleek and Flex bundle packs, your child can change the color of their ID every day!
Sizing
If you are looking for an adjustable ID, we recommend our Stainless Steel Bracelet. The curb style chain allows for links to be removed and added as your child grows. The Action bracelets are adjustable to fit wrists as small as 5 ½" and are completely waterproof. A necklace is a great choice for kids because the size won't change as often. Our Heart Charm, Classic, Pendant and Dog Tag necklaces are ideal selections.
Durability
For a child involved in outdoor and physical activities, we recommend our durable Stainless Steel Classic Bracelet, Necklace or Sportband. We do offer IDs in sterling silver and gold, but keep in mind precious metals are soft and tend to scratch easier than stainless steel.
Safety
Your child might want an ID that blends in with watches or other jewelry, but the purpose of an ID is to be seen by emergency responders. To make your kid's medical ID more noticeable, select a round or hex shaped alert charm in red or blue.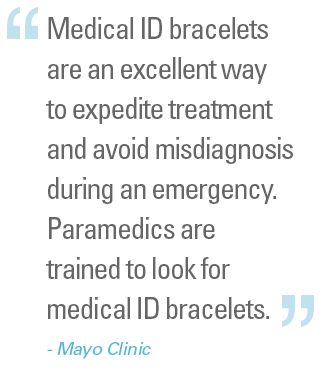 Medical IDs for: