Medical IDs are Now Fully Covered for Your Veteran Patients
---
Medical IDs are indicated for veterans who have chronic conditions including diabetes, food or drug allergies, heart conditions, dementia, suffer from injuries including embedded metal fragments, rare diseases or any other medical or health related issue which should be communicated promptly in an emergency.
Step 1
Approve Veteran for Medical ID
Any VA clinician or approved healthcare provider may qualify veteran for a medical ID based on their medical condition(s).
Step 2
Submit Electronic Consult
Clinician or provider submits the electronic consult to Prosthetics to be completed by a Purchasing Agent.
Step 3
Prosthetics Places Order
Prosthetics communicates directly with American Medical ID for payment via secure fax line 713.695.7358.
---
Resources
Ordering Guide
This guide shows available medical IDs with the line limitations for each option. This will ease the ordering process for you and Prosthetics. This form is not required to submit the order.
Click here to print.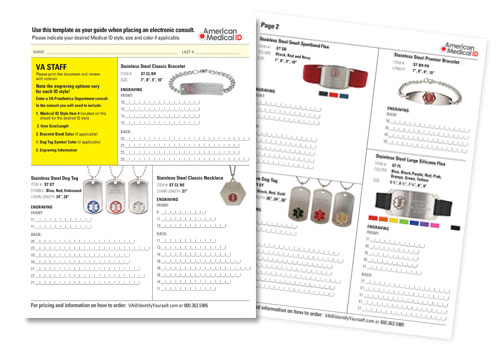 Free Sample and Display for your Clinic
Click here to request.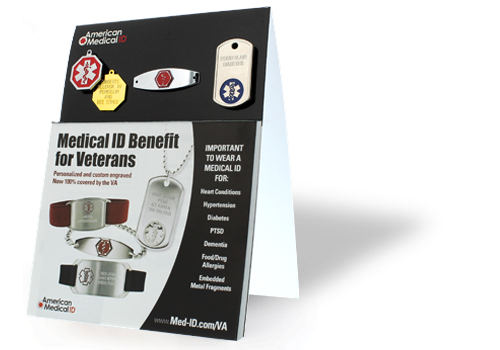 American Medical ID, a small business, has contract V797P-2296D with the Federal Supply Schedule to make custom engraved medical IDs available for veterans.
The medical IDs pictured below are some of the qualifying medical IDs under this directive: