How to Buy Medical IDs with FSA Account in 2021

A Flexible Spending Account (FSA) is a tax-free fund employees can use to pay for out-of-pocket health care costs. For 2022, employees can contribute up to $2,850 to their FSA. Unlike its counterpart, the Health Savings Account, a FSA can be used for other expenses that are not limited to medical expenditures. One example is the ability to use FSA for child or senior care. The funds deposited by the employee to an FSA are based on pre-tax income which means that there are advantages for payroll tax savings. Remember that an FSA account operates under a "use it or lose it" approach. Spend everything in your FSA account within the calendar year before it disappears.
---
Key Differences between FSA vs. HSA
A Flexible Spending Account, as its name implies, provides you with more flexibility and is not limited to eligible medical expenses. Unlike a Health Savings Account, your FSA must be spent during the plan year which is typically the calendar year. One advantage of HSA over FSA is that an HSA is a savings account and deposited cash can usually be invested for longer term growth. Health savings earn from interest and benefit from rolling over each year, unlike a flexible spending account.
To maximize your Flexible Spending Account, it is recommended you are aware of purchases that you can use your spending account funds on.
---
What are eligible FSA Expenses?
The list of qualified FSA expenses can be found here on the Federal Flexible Spending Account Program website. Take note, you may use your spending account to claim a wide variety of health care products and services for you, your spouse, and your dependents. This includes medical alert bracelets that are found here on American Medical ID.
Like other items on the list of qualified FSA expenses, medical ID bracelets for conditions such as (but not limited to) epilepsy and diabetes can also be purchased with your FSA flex card without any prescriptions.
---
How to Buy a Medical ID with Your Flexible Spending Account
When you enroll in a health FSA and chose to receive the FSA card also known as Preferred Flex Card, you can use this like a regular card. You may use the Preferred Flex for qualified merchants like hospitals, pharmacies, physicians and for buying eligible FSA expenses.
Medical alert IDs like bracelets, necklaces, and accessories can be purchased at American Medical ID using a Preferred Flex Card with no prescription required.

*Medical alert bracelets are not eligible with a dependent care flexible spending account (DCFSA) or a limited care flexible spending account (LCFSA). Source: FSA Store
---
Here's How One Customer Used Their FSA to Buy a Medical ID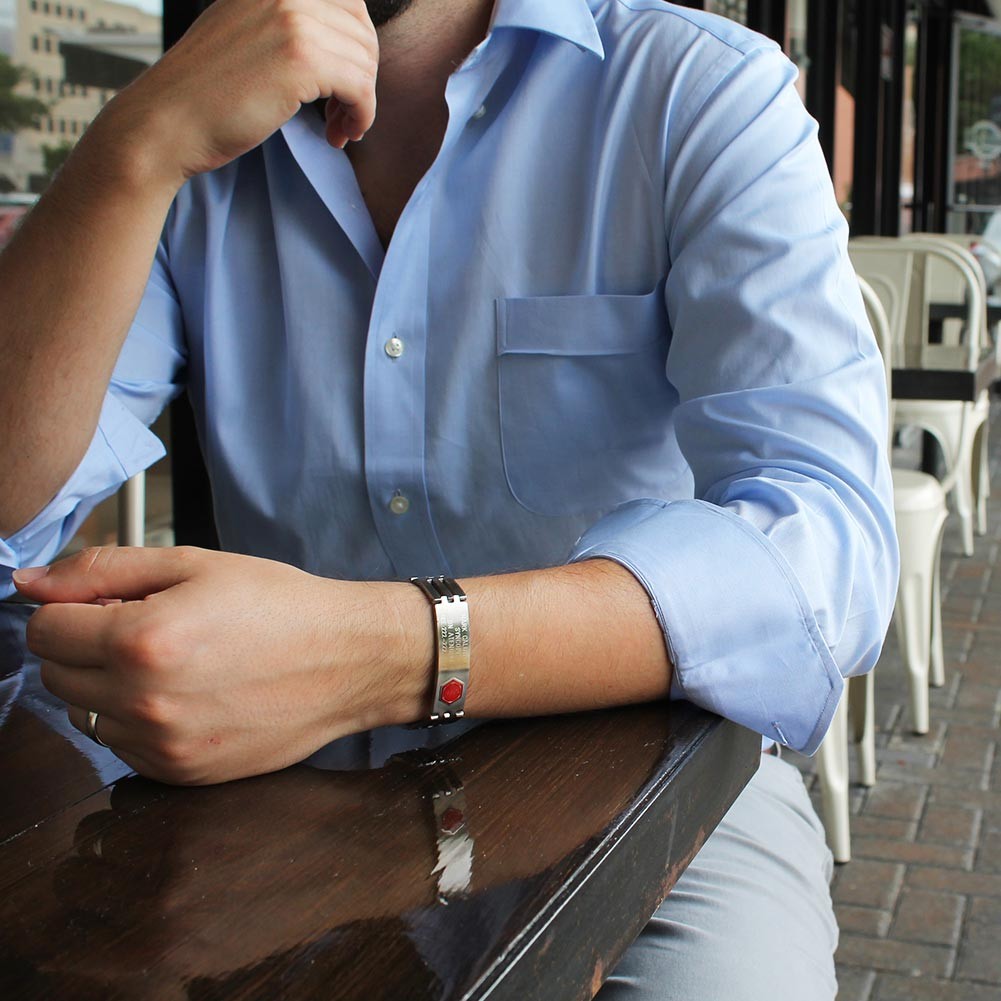 I wanted to make the most of my FSA account before it disappears (year-end) and one of my friends who has diabetes mentioned about using my FSA to buy an emergency medical ID. I looked at American Medical ID's large selection and they were beautiful! I am not fond of reading instructions to use my FSA, so I called their customer service who guided me in using my flex card to complete my purchase. It's easier than I imagined, and I really enjoy wearing my stylish medical ID bracelet – thank you American Medical ID! – Gary Findley, Illinois
Do you need help or more information about using your FSA to buy a medical ID? Email us or call 1.800.363.5985, our support team is available during business hours of 8:00 a.m. to 5:00 p.m. CST.